A father has many important roles to play in his son's life: provider, protector, role model, and more. But one of the best things about being a dad is that he can also be playmates and fitness buddies with his little one! It's extremely important for dads (and moms) to maintain an active lifestyle or at least a dedicated exercise routine. Not only does it keep their bodies strong and minds sharp in spite of the demands of daily life, it also shows kids the importance of self-care and wellness through fitness.
Also, experts say that when dads are more involved, children grow up to be happier, healthier, and more responsible adults. A Canadian study also found that parents with active lifestyles direct impact their children, helping them reach their recommended daily quota of active movement to stay healthy. Here are some ideas to get their heart pumping while strengthening their father-and-son bond:
1. Play basketball.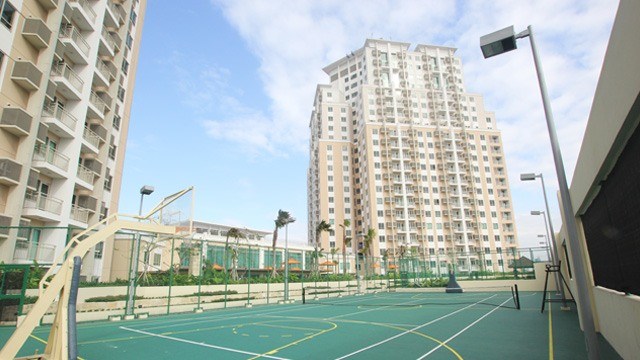 Shoot some hoops or polish those dunking skills at a spacious outdoor court.
If you love watching the pros together, why not emulate your favorite basketball stars through a one-on-one game? If your son is new to the sport, here's Dad's chance to be his coach for the day. Plus, the benefits of sports extend beyond the physical. It lets your son learn teamwork, respect for others especially in the heat of the game, and good sportsmanship whether you win or lose. Other great sports to try include martial arts (for self-defense and discipline), and sports like wall-climbing (for self-reliance and mental strength).
2. Race against each other.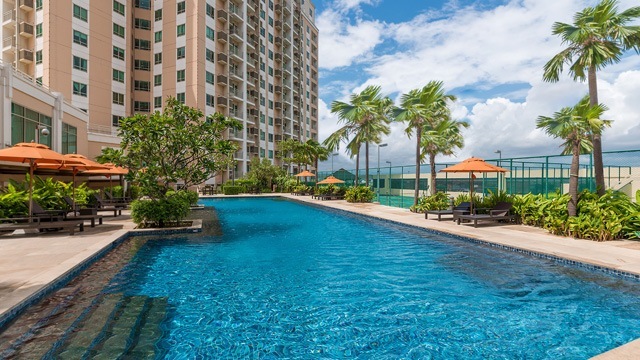 Swim some laps in a resort-like pool for a fun workout, or have a friendly competition!
Fuel your son's competitive spirit by engaging in a friendly competition. Here's a suggestion: Head to a nearby pool for a swimming race, or visit a track and see who can run the most number of laps within a specific time period. Follow it up with a good meal after the workout. Running is not only good for strengthening your heart and lungs, it's also ideal for reducing stress. Not only that, running literally adds years to your life. Studies show that runners live an average of three years longer than non-runners. That's precious more time spent with your family.
3. Try other forms of entertainment.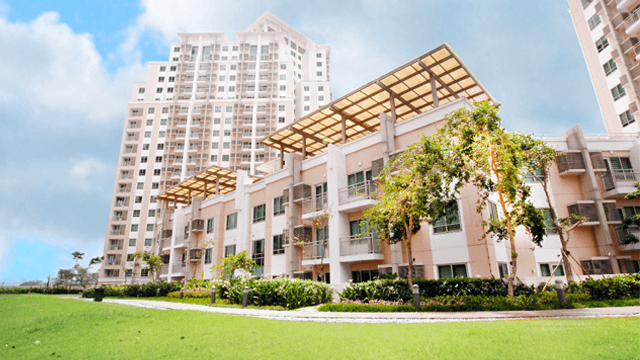 Introduce your kids to old-school outdoor games amidst lush greenery and in the open space of the Great Lawn.
These days, most kids are stuck playing online games on their gadgets, much to their detriment: Too much time glued on the screen actually reduces their opportunities to create and absorb lessons from real-life experiences. Dads can teach their sons some of the games you grew up with. Remember how much fun patintero, luksong tinik, and agawan base, hopscotch, and hide and seek were? Ideally, these games should be played in a wide, open space, with lots of room to run around.
4. Work out at the gym.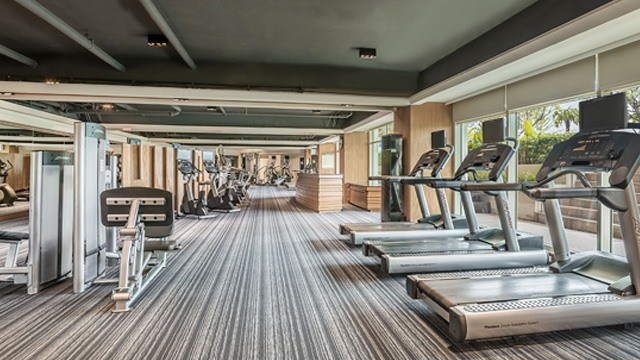 Rainy days don't have to be an excuse not to exercise if you have a fully-equipped gym.
If your teenage son is looking to lose weight or build muscle, ask Dad to take him to your gym, where he can learn to lift weights or operate the treadmill. Resistance training is ideal for older kids to build stronger bones and muscles, resulting in functional strength that keeps him active. If he's too young for that, then Dad can take him to a dance studio instead and teach him some cool dance moves. Hip-hop is always a big hit across all ages!
Families who value a well-balanced, active lifestyle will thrive in a resort-like residential area like The Grove by Rockwell in Pasig City, which is equipped with amenities like a good-sized pool, a well-equipped gym, a dance studio, and a basketball court.
Dads and sons have all the space and opportunities they need to bond over games and sports. And since they're just a few steps away from your unit, dads (and also moms) have no excuse not to have fun outside and start making awesome memories, while promoting a healthy and active lifestyle. Units at The Grove by Rockwell are ready to move into any time, so you're that much closer to a happier, healthier family life with your loved ones.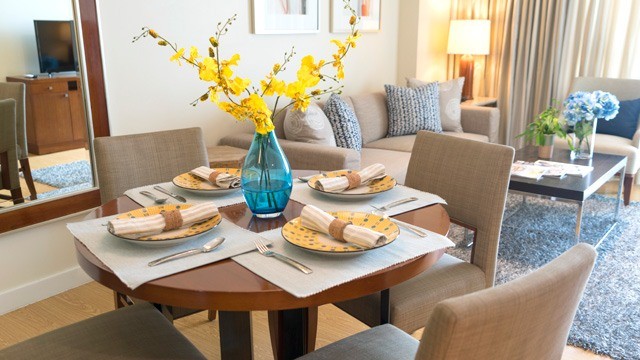 Spacious units at The Grove are already well decorated and fully furnished, making it easy and convenient to move in.
To know more about The Grove, visit its official website and follow it on Facebook and Instagram.
Source: https://www.smartparenting.com.ph/parenting/big-kids/your-son-s-bond-with-his-dad-can-help-him-become-a-happy-healthy-adult-adv-con